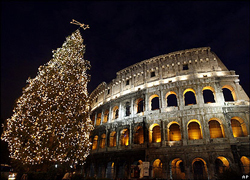 Rome is a top Italian city to visit during the Christmas holiday season and the place where the celebration of Christmas originated. The first Christmas mass was said at the Church of Santa Maria Maggiore and the earliest known permanent nativity was created for the Rome Jubilee in 1300.
Highlights of the season are the Papal Midnight Mass on Christmas Eve, and the Pope reading his Christmas message in the piazza in front of St. Peter's at noon on Christmas Day. In St. Peter's Square there is also a famous life-size nativity scene.
As well as the grand display outside St Peter's, and a smaller effort in Piazza Navona, other nativity scenes (presepi) can be seen in most of Rome's churches. These are important destinations for Italian visitors, and it's worth inspecting one or two. Some have fascinating details, and even feature day-into-night lighting effects. There is also a large exhibition of presepi in the Sala del Bramante by Piazza del Popolo (admission charge).
At the Christmas Market in Piazza Navona you can buy the components for your own nativity scene, as well as sweets, wooden toys and all sorts of Christmas-related ornaments and goodies. Shoppers can marvel at the elaborate additions to nativity scenes, from working waterfalls to moving bakery scenes (in which the bakers look suspiciously like pizza chefs).
Those interested in Christmas shopping will find the main shopping streets sparkling with festive lights and packed with shoppers. Groups of busking musicians, often dressed as Santas, play cheerful seasonal tunes. Many shops lay down red carpeting on the pavements and the last few years have seen an invasion of large inflatable Santa Clauses. As well as the Christmas lights, a giant Christmas tree appears in the centre of town, in Piazza Venezia or by the Colosseum.
Rome is full of good places to buy presents: hundreds of little food shops are packed with goodies to take home. Other good Roman gifts include gloves and accessories (try the shops around the Spanish Steps) and kitsch souvenirs (anywhere near the Vatican).
An unforgettable Christmas begins with Scott House Hotel!
Located in the centre of Rome, Hotel Scott House a 3 star hotel, enjoys a privileged location from which to explore the city and its best attractions and monuments: Colosseo, Fori Imperiali, Piazza Venezia, Fontana di Trevi …
Hotel Scott House offers plenty of attractive rooms deals and packages!
Click here to find out more about our Christmas Promotion!