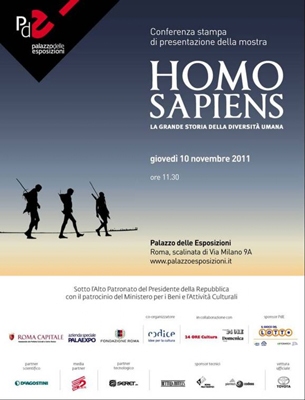 Still asking yourself these various questions regarding the evolution theory: when and where did we evolve? How have human societes spread across the continets? How have cultural innovations affected the growth and spread of population? What is the connection between genes and languages … Cavalli-Sforza and others have answered these questions.
Two hundred thousand years ago Homo sapiens began the journey from a small valley in what is today's Ethiopia that led him to colonize the entire planet and to live with other human species, forming the great variety of peoples and cultures that we know. For the first time, an international group of scientists from different disciplines and coordinated by Luigi Luca Cavalli-Sforza, has reconstructed the roots and routes of human settlement. Geneticists, linguists, anthropologists and paleo-anthropologists have combined the results of their research into a wonderful fresco of the history of human evolution.
The result is Homo sapiens.The great history of human diversity, an international interactive and multimedia exhibition made up of six sections telling the stories of the adventures and extraordinary travels, largely unknown, which generated the mosaic of human diversity.
At Palazzo delle Esposizioni from November 11 2011
How to arrive: Underground metro A (get off at Repubblica) metro B (get off at Cavour) / Bus 40 – 64 – 70 – 71 – 117 – 101 – H (BUS STOP Nazionale/Palazzo Esposizioni)
Located in the centre of Rome, Hotel Scott House a 3 star hotel, enjoys a privileged location from which to explore the city and its best attractions and monuments: Colosseo, Fori Imperiali, Piazza Venezia, Fontana di Trevi …
Hotel Scott House offers plenty of attractive rooms deals and packages!
Click here to find out more!
No Comments
RSS feed for comments on this post.
---