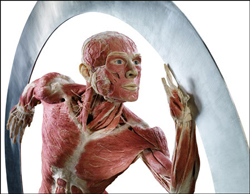 More than 33 million people have seen this fascinating exhibition. Making its Italian premiere in Rome, BODY WORLDS Vital celebrates the potential of the human body and the body in motion. This blockbuster exhibit is designed to show visitors a contrasting view of the reality between healthy and unhealthy lifestyle choices. Discover the contrast between healthy bodies and those in medical distress.
Gunther von Hagens' is an anatomist and the original inventor of the process of plastination. All anatomical specimens on display are authentic and belonged to donors who legally allowed the scientific process to gain unique insights into the human body.
Located in the centre of Rome, Hotel Scott House a 3 star hotel, enjoys a privileged location from which to explore the city and its best attractions and monuments: Colosseo, Fori Imperiali, Piazza Venezia, Fontana di Trevi …
Hotel Scott House offers plenty of attractive rooms deals and packages!
Click here to find out more!
No Comments
RSS feed for comments on this post.
---