Rome Opera: Summer Season 2011 at the Terme di Caracalla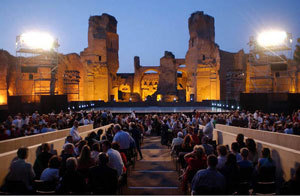 Since 1937, the prestigious Rome Opera Theatre has held its summer season in the grand archaeological complex of the Terme di Caracalla. It is uniquely well-preserved among the great Roman baths, allowing visitors to appreciate its striking architecture in all its detail.
Schedule Giacomo Puccini: La Bohème
(16-17-18-19-21-22-23-24-25-26 June 2011)
Richard Strauss: Elektra
(30 September – 02-04-06-08 October 2011)
Information Piazza Beniamino Gigli, 1 – 00184 Roma
Telephone: +39 06 48160255 – 06 4817003
Fax: +39 06 4881755
e-mail: ufficio.biglietteria@operaroma.it
Hours 10 a.m. to 4 p.m.
Tuesday through Saturday 9 a.m. to 1:30 p.m.
Sunday Closed Monday.
Located in the centre of Rome, Hotel Scott House a 3 star hotel, enjoys a privileged location from which to explore the city and its best attractions and monuments: Colosseo, Fori Imperiali, Piazza Venezia, Fontana di Trevi …
Hotel Scott House offers plenty of attractive rooms deals and packages! Click here to find out more!
No Comments
RSS feed for comments on this post.
---